Education and nature: activities off the beaten track to challenge yourself!
A new way to plan your educational activities in Luxembourg
Both formal educational institutions (elementary school, high schools, etc.) and non-formal educational institutions ('maison relais', youth centers, etc.) face the same problems when it comes to organising activities with children and young people.
They need to find alternatives that will be fun for everyone and provide valuable lessons, both pedagogically and on a social and human level. At the same time, these school trips to Luxembourg must be easily accessible and easy to put in place.
We offer personalized support and turnkey solutions for unforgettable school trips in nature in response to all these needs.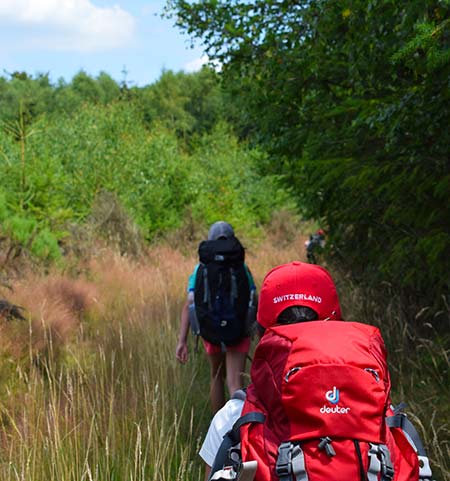 Inevitable flexibility for activities with young people
We strive to provide everyone with an adequate solution to combine education and nature. What is our goal? To take full advantage of what the ecosystem offers us to teach children different things: the importance of respecting nature, the desire to uncover new things, cooperation or even to challenge themselves.
We can arrange school trips to Luxembourg for half days (at least 3 hours), full days (about 6 hours), or several days in a row (with or without overnight stay). Most importantly, the number of hours can be adapted to the specific needs of each institution (4, 5 or 8 hours, for example). The program is tailored to each age group (from 3 to 99 years old). Still, it can also be customised according to the group's interests, areas for improvement, previous experiences, or the organisational constraints of the institution.
When it comes to active and nature-based education, we have a basic foundation with different activities, and we strive to tailor it as much as necessary to suit all audiences.
A simple combination of educational and human objectives
Combining education and nature with physical activity, we propose various outdoor activities with children and teenagers that can illustrate or support certain school and after-school activities and allow them to be physically active. For example, our nature-based programs can be an excellent opportunity to learn about science, while a wood carving workshop can offer a chance to learn about history.
We do our best to make the local area an integral part of our program. We are aware that children are prone to being ultra-connected in today's society, spending (or wasting) a lot of time on screens. This is why our school trips in Luxembourg are structured in such a way as to recreate an authentic bond between young people, while also allowing them to reconnect with nature and themselves while developing their curiosity.
Learning from nature to become a better version of yourself
We realise at NBE that the marriage between education, nature, and physical activity works. That's why we don't just think about nature games and scouting. We always consider what each experience can teach participants, be it factual knowledge or personal development.
One of the challenges of our activities with children and adults is to include methods to express certain ideas and manage conflicts, if necessary. We also help young people build their personalities and better apprehend everyday life situations through playful ways centered on nature, movement, mutual aid, and surpassing oneself.
Get in touch with NBE to plan your next adventure in the great outdoors!