Unforgettable experiences in the outdoors: another vision of teambuilding in Luxembourg
Encourage team spirit through original and fun activities
When it comes to managing a team, we know how important it is that all staff members can combine their skills and move forward together. And to succeed in binding several employees together, it is not enough to motivate them in the office; it is generally necessary to propose activities outside the office, such as a teambuilding in Luxembourg.
We are committed to supporting all companies in this process by suggesting strong human experiences centered around nature, so that everyone can live in harmony with themselves, others, and their environment. This added value is beneficial towards loyalty and cohesion in companies.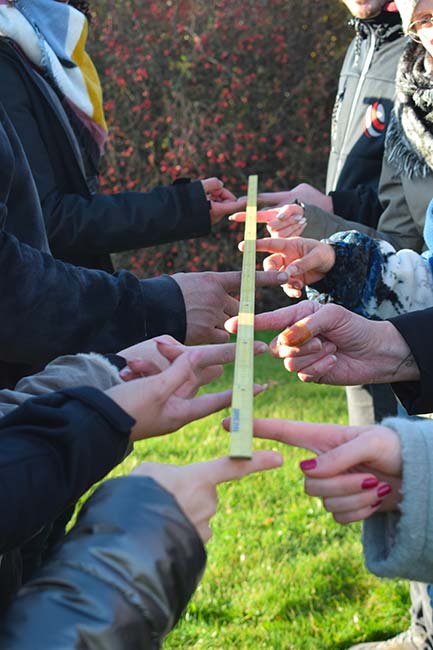 All activities
Communication
Concentration
Cooperation
Creativity
Discovery
Entertainment
Finding your personal limits
Innovation
Meeting your goals
Movement
Orientation
Relaxation
Self-confidence
Team confidence
Team spirit
Versatility
Improve group cohesion with a teambuilding in Luxembourg
Many teams rely on a positive dynamic amongst the different members. Without it, it is impossible to move ahead and innovate. To ensure that all employees are fully engaged, managers know that they need to set up events or incentives outside of the office to strengthen the bonds. We offer a way to get back to the roots, where nature, movement and discoveries are at the forefront of the activities.
To build a real group dynamic, we propose several team activities that can be adapted to each person's needs, for a half-day or a full day, outdoors and near the workplace if necessary.
Build loyalty by reinforcing their sense of belonging
Using our services to organise a company seminar or teambuilding in Luxembourg, you can be sure to have original and totally new activity to offer to your teams.
The participating employees will live an unforgettable experience in the countryside, which will have been specifically adapted to their profile and your companies strategy to promote team spirit. We are able to offer a special day: our incentives are an opportunity to go hiking with a guide, but also to do mountain biking and perhaps even intuitive archery.
Rely on a trusted partner to arrange your incentives
Regardless of whether you are looking to organise incentives or any kind of teambuilding event in Luxembourg, you may not have the time nor the energy to deal with the preparations.
By entrusting us with your project, you know that we will invest our time and manage all the elements for which you need our services. In this regard, we can also set up a catering on request, so that the day ends in a friendly way around a drink and small treats to enjoy.
We can adapt each day's program to stimulate team spirit, encourage participants to surpass themselves or encourage the verbalisation of emotions, for example. Our offer is both mobile and diversified, and aims to create tailor-made events that are as beneficial as they are enjoyable for all the individuals who attend them.
Looking for a teambuilding activity in Luxembourg? Count on NBE and its outdoor activities!